Great food, unique dishes and fantastic service all delivered to you with a smile. That's the Yolk experience. And it's been that way since 2006 when Taki Kastanis founded his first Yolk in Chicago with innovative food and a great customer experience in mind. Today Yolk is still delivering unique and innovative dishes to thousands and thousands of loyal customers each week. But the story did not start there.
Mr. Kastanis was "born" into the restaurant business, growing up with hard-working parents who owned up to ten family-oriented eateries. As a child, Taki was often seen doing his homework in a booth at one of the restaurants while waiting for his parents to finish work. In his teen years, Taki happily put in his time at the family diners, working after school, weekends, and whenever his parents needed him.
At the age of 20, Taki took a break from school to open his first breakfast and lunch concept. While it was a learning experience at such a ripe age, he sold it about a year later and returned to business school. After attending the University of Illinois for three years, Taki went on to get his Real Estate broker's license and subsequently began a career in the real estate industry.
However, with the restaurant business in his blood, it was hard to stay away. At the age of 24, he returned to the food industry by purchasing an existing restaurant in a northwest suburb of Chicago. After a year and a half, Taki sold that property and decided to turn his attentions to honing what was to become the Yolk concept – one that he knew would have an urban appeal.
In 2006, Taki opened his first Yolk restaurant in Chicago's South Loop neighborhood and never looked back. It didn't take long before the Yolk concept of upscale breakfast and lunch fare took off in a big way, resulting in the opening of several more Yolk locations in downtown Chicago.
Yolk quickly became incredibly popular with locals and tourists alike – so popular in fact that the media couldn't help but take notice – the Zagat rated establishments won "Best Breakfast" in 2008 from Citysearch.com, voted "#1 breakfast" by Fox News viewers in Chicago that same year and featured on the cover of the spring/summer 2010 edition of Dining Out Chicago Magazine.
Fast-forward to today and you will find Yolk continuing to grow and expand its unique establishment in upscale urban locations, not only across Chicago, but in other markets and cities across the country.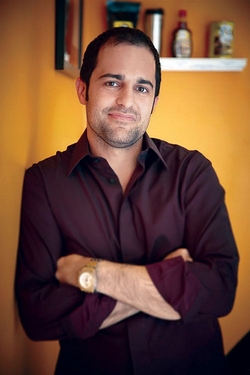 Taki Kastanis – Yolk. founder